Let's go 4 a ride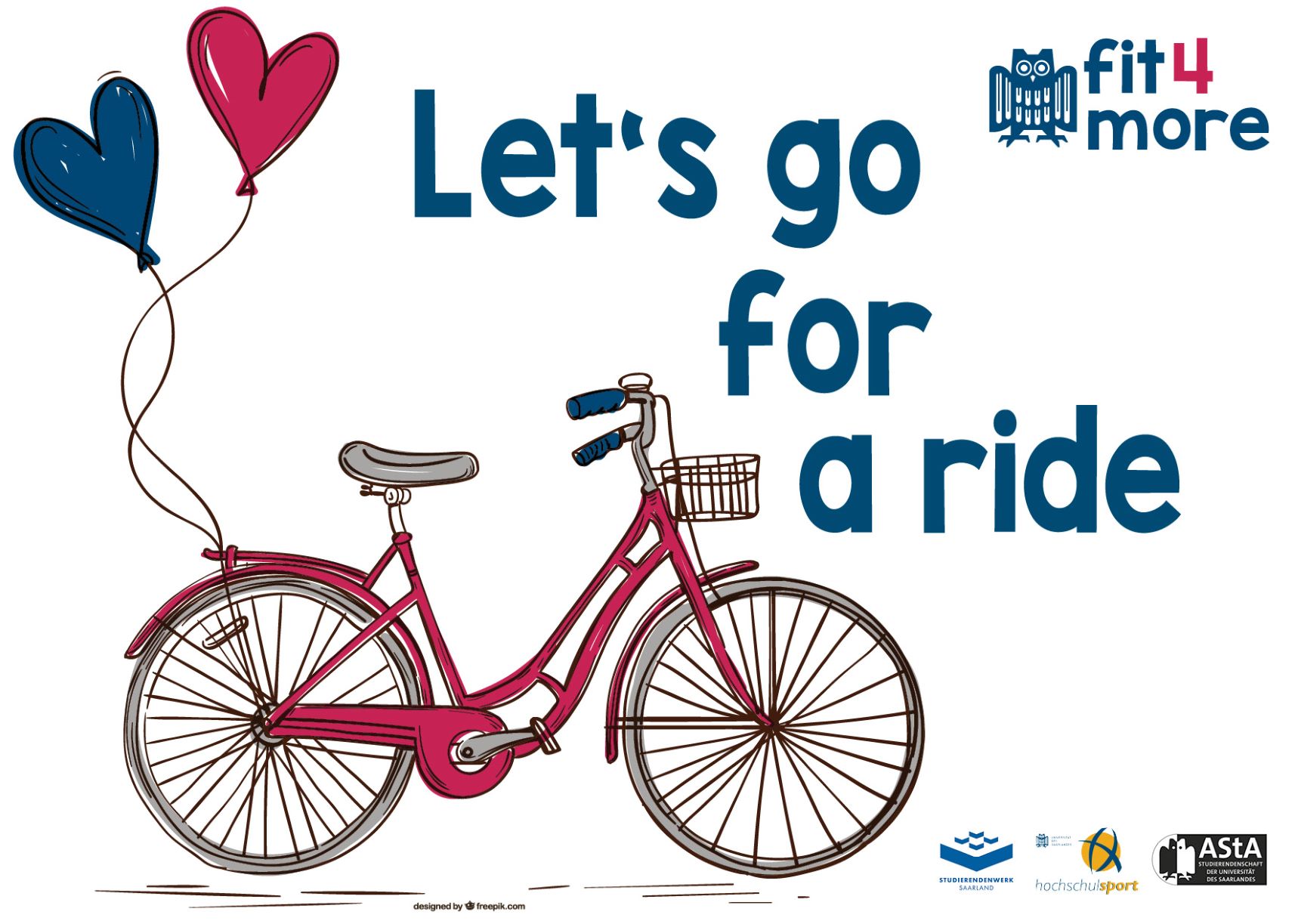 Ride your bike!
This is the motto of our joint campaign with the AStA and the Studierendenwerk Saarland.
Take advantage of the benefits of cycling: do something for the environment and do something for your health at the same time.
From now on you will be rewarded for cycling! During the period from June 1 to June 22, you can pick up a stamp every time you ride your bike to the university. At the end of the campaign period, great prizes will be raffled off.
And this is how it works:
Pick up one of the collection cards that are available at the University Sports Centre (Saarbrücken and Homburg), at the Uni-Fit (Saarbrücken), at the AStA (Saarbrücken and Homburg) and at the Mensa / Mensacafé (Saarbrücken) or at the Cafete (Homburg) or download it here.
Get a stamp on this card every time you cycle to the university at the fitness centre Uni-Fit (building B5 1), at the AStA in Saarbrücken (building A5 2), at the Mensacafé (building D4 1, ground floor) or at the Cafete in Homburg (building 74) - in the period from June 1 to 22.
Return the collection card to one of the above locations no later than June 26.
Gewinne
Unter allen Teilnehmenden verlosen wir tolle Gewinne je Level:
Level 1 – wenn du 4 Mal zur Uni geradelt bist: 5 Mensa-Pakete bestehend aus einem come & cook Kochbuch des Studierendenwerkes sowie einem Essensgutschein für ein Tagesessen in unserer Mensa
Level 2 – wenn du 8 Mal mit dem Rad zur Uni gefahren bist: 5 Uni-Fit Pakete bestehend aus einem Hochschulsport Handtuch, einer Trinkflasche sowie einem Gutschein für einen Einführungskurs
Level 3 – wenn du 12 Mal dein Rad zur Uni bewegt hast: 5 Hochschulsport-Pakete bestehend aus einem Turnbeutel, einem Hochschulsport-Kursgutschein sowie einem exklusiven Go-Outside Buff
Zusatzchance: Unter allen Teilnehmenden verlosen wir außerdem 5 Eintrittskarten für das AStA Campus Festival am 2. Juli, 2 Mensagutscheine à 25€ sowie 2 exklusive Fahrrad-Checks mit Maik.
Wir wünschen viel Spaß beim Strampeln und Sammeln!
Kontakt
Hochschulsportzentrum

Dr. Simone Flick
+49 (0)681/302-57574

Projektkoordination
fit4more - gesund studieren