Study

/

Commercial Law for Business Practice
Commercial Law for Business Practice (LL.M.)
Economists are frequently required to consider a wide range of legal and regulatory constraints as part of their daily work. The complexity of the laws and regulations involved and the fact that they are subject to constant amendment make it difficult for economists to maintain a clear overview of the field. The amount of legal content taught in economics and business studies degrees is often insufficient to equip graduates with the knowledge required to adequately understand a specific legal context or to make legally relevant decisions. Studying for a separate law degree is rarely a feasible option for working professionals.
This study programme is offered in cooperation with the Distance and Independent Studies Center (DISC) of the Kaiserslautern University of Technology.
Description
The distance-learning programme "Commercial Law for Business Practice" offers graduates in economics, the humanities and social sciences and in industrial engineering the opportunity to acquire knowledge and proficiency in legal aspects of business and commercial practice, without being tied to a particular location and with the benefit of being free to study at their own pace and in their own time. Students on the Master's programme are taught those aspects of the legal system that economics and business graduates need to deal with in their day-to-day professional life. Students learn to identify the legal risks and opportunities that arise in the daily business environment and to decide when a particular case requires assistance from specialist law professionals.
Written course materials are used to convey programme content. There is a weekend on-campus event held every semester to give students the opportunity to ask questions, deepen their understanding of particular points and discuss the practical implementation and relevance of the theoretical knowledge acquired. The tuition fees cover the costs of all teaching materials and associated postage, attendance at on-campus courses, examination fees and administrative expenses. Tuition fees do not cover travel, accommodation and living expenses incurred when students attend on-campus events.
Details
Der Studiengang erfordert einen Studienaufwand von insgesamt etwa 2.250 Zeitstunden. Der wöchentliche Zeitaufwand für die Erbringung von Studien- und Prüfungsleistungen beträgt durchschnittlich 22 Zeitstunden. Die Studieninhalte werden durch Fernlehrtexte, netzbasierte Lehrveranstaltungen (soweit angeboten) und verpflichtende Präsenzveranstaltungen (je eine pro Semester) vermittelt.

Das Lehrangebot umfasst 90 ECTS und die folgenden Module:
Modul WR 0100 "Juristische Arbeitspraxis"
Modul WR 0200 "Vertragsrecht"
Modul WR 0300 "Handels- und Gesellschaftsrecht"
Modul WR 0400 "Wirtschaftsrecht, Wirtschaftsstrafrecht und Wahlmodul (Wirtschaftsverwaltungsrecht oder Unternehmenskauf)"
Modul WR 0500 "Internetrecht"
Modul WR 0600 "Geistiges Eigentum"
Modul WR 0700 "Arbeitsrecht"
Modul WR 0800 "Vorsorge vor Risiken"
Modul WR 0900 "Steuer- und Bilanzrecht"
Modul WR 1000 "Vertragspraxis".
Weitere Einzelheiten können dem Modulhandbuch entnommen werden.
Requirements
Der Zugang zum weiterbildenden Masterstudiengang ist sowohl mit als auch ohne einen ersten Hochschulabschluss möglich. Zugangsvoraussetzungen sind:
Bewerberinnen und Bewerber mit einem ersten Hochschulabschluss
ein erster erfolgreich abgeschlossener Hochschulabschluss, nicht aber die erste juristische Prüfung/erstes juristisches Staatsexamen,
Nachweis über eine mind. einjährige einschlägige (d.h. rechtsnahe) Berufserfahrung nach dem ersten Hochschulabschluss.
Bewerberinnen und Bewerber ohne einen ersten Hochschulabschluss
Nachweis einer Hochschulzugangsberechtigung gemäß § 77 Abs. 2 SHSG,
Nachweis einer mindestens dreijährigen einschlägigen rechtsnahen Berufserfahrung,
das Bestehen der Eignungsprüfung.
Application & deadlines
Bewerberinnen und Bewerber mit einem ersten Hochschulabschluss

Das Studium kann nur zum Wintersemester aufgenommen werden. Der Bewerbungszeitraum beginnt am 1. April und endet am 15. Juli für das folgende Wintersemester. Für das Wintersemester 2021/2022 wird aufgrund der aktuellen Entwicklungen (Corona-Pandemie) die Bewerbungsfrist auf den 31.07.2021 verschoben. Bei erfolgter Bewerbung können die Arbeitgebernachweise bzw. Arbeitszeugnisse bis zum 15.08. nachgereicht werden.

Die Bewerbung erfolgt über den Antrag auf Bewerbung. Das Antragsformular enthält eine Liste der einzureichenden Unterlagen sowie weitere Hinweise zur Bewerbung.

Bewerberinnen und Bewerber ohne einen ersten Hochschulabschluss

Hierfür findet eine Eignungsprüfung statt. Die Bewerbung für die Teilnahme an der Eignungsprüfung erfolgt über den Antrag auf Zulassung zur Eignungsprüfung.

Die Bewerbungsfrist für die Eignungsprüfung endet am 1. April eines jeden Jahres (Posteingang). Hier finden Sie weitere Informationen zur Eignungsprüfung.
Nach erfolgreicher Bewerbung wird ein Zulassungsbescheid versendet, mit dem die Einschreibung vorgenommen werden kann. Diese erfolgt an der Universität des Saarlandes, zusätzlich erfolgt dabei automatisch eine Zweiteinschreibung an der Technischen Universität Kaiserslautern.
Weitere Informationen finden Sie in unserem Infoheft für die Einschreibung.
Regulations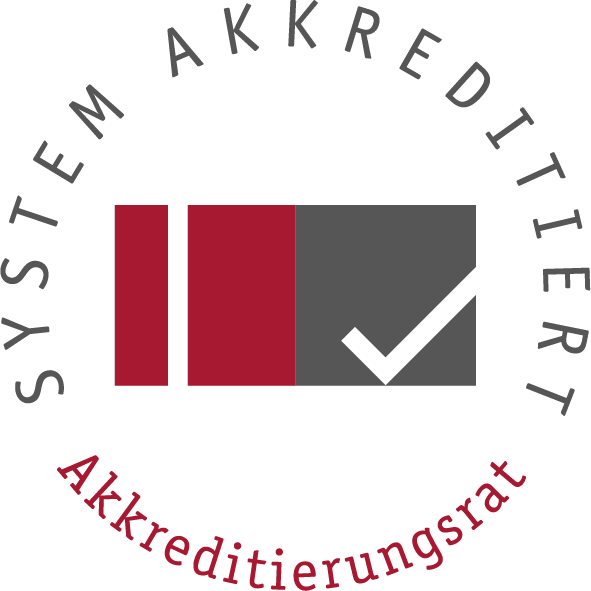 Accredited study programmes
Saarland University was one of the first universities in Germany to achieve Quality Assurance Accreditation and has held the Accreditation Council's official quality mark continuously since 2012.

Quality management