People

/

Dr. Dimitri Rothermel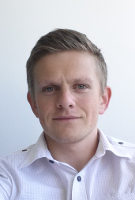 Research assistant
Universität des Saarlandes
Fachrichtung Mathematik
Campus, Geb. E1.1, 4.18
D-66123 Saarbrücken
Tel.: +49 (0)681 302 57435
FAX: +49 (0)681 302 4435
Email: rothermel[at]math.uni-sb.de
Consultation hours: on request
Research topics
Inverse problems
Heat transfer in general
Inverse heat transfer problems
ACC process of TMCP steel
Infrared Thermography and Non-Destructive Testing
Ultrasound guided waves in pipe testing
Teaching
Winter semester 2016/2017 - Inverse Probleme
Summer semester 2017 - Numerisches Praktikum zur Computertomographie
Winter semester 2017/2018 - Numerik I
Summer semester 2018 - Programmierung für Mathematiker
Winter semester 2018/2019 - Höhere Mathematik für Ingenieure 1
Summer semester 2019 - Höhere Mathematik für Ingenieure 2
Publications
A. Katsevich, D. Rothermel, and T. Schuster. An improved exact inversion formula for solenoidal fields in cone beam vector tomography. Inverse Problems, Special issue: 100 Years of the Radon transform, 2017.
D. Rothermel, T. Schuster, R. Schorr, M. Peglow. Parameter estimation of temperature dependent material parameters in the cooling process of TMCP steel plates. Hindawi, Mathematical Problems in Engineering. https://doi.org/10.1155/2021/6653388, 2021.
D. Rothermel, T. Schuster. Solving an inverse heat convection problem with an implicit forward operator by using a projected quasi-Newton method. Inverse Problems 37.4, 2021.
D. Rothermel, T.Schuster. Development of a Generalized Photothermal Measurement Model for the Layer Thickness Determination of Multi-Layered Coating Systems. MDPI Appl. Sci., 13(7), 4185; https://doi.org/10.3390/app13074185. 2023.
Talks
Inverse heat transfer problems and applications, SIAM conference on Imaging Sciences 2018, Bologna, Italy
Inverse heat transfer problems and applications, Oberseminar Saarbrücken, July 2018.
Characterization of the heat transfer of heavy plates during the laminar cooling process, Chemnitz Symposium on Inverse Problems 2018, Chemnitz, Germany
Sensor delay effects in high-resolution FluoRespirometry, European study group with industry 2019, Innsbruck, Austria
Nonlinear inverse heat transfer problems in modelling the cooling process of heavy plates, ÖMG Conference 2019, Dornbirn, Austria