Study/Time Abroad
Students are required to spend a period of time in an English-speaking country or region in order to perfect their speaking, listening, and writing skills and to broaden and supplement their cultural understanding. This website is meant to guide you through this part of your degree. In the context of our department and the spread of the English language around the world, the first question you might ask is just where you could spend your time abroad; the second, what can I do in the country of my choice and, more important, how do I get there? We will assist you with your choice of place, type of work, funding, and the determination of the length of your stay.
---
First Steps...
You want to go abroad but you don't know where to start? Here's a collection of helpful links for you:
1. This checklist (courtesy of the DAAD, the German Academic Exchange Service) will give you an idea of how much time you need in order to prepare your stay abroad and what your options are: https://www.daad.de/de/im-ausland-studieren-forschen-lehren/studieren-im-ausland/checkliste-fuer-ein-studium-im-ausland/
You can also download the checklist as a pdf file here.
(Please note that you will still have to check with your coordinator, Dr. Heike Mißler, whether your plan for your stay abroad meets the requirements of your study programme, so get in touch with her before you sign a contract or book plane tickets!)
2. You want to find out how you can get funding for your stay abroad? The DAAD has compiled a list of ideas and options here: https://eu.daad.de/infos-fuer-einzelpersonen/foerderung-fuer-studierende-und-graduierte/de/
...and our International Office has more information on many of these and other available options here: https://www.uni-saarland.de/international/out/studium/finanzierung.html
3. You don't know how to find an internship? Maybe you can find inspiration - or even job offers - here:
4. You still have questions? Check out our Study Abroad FAQ section. It should cover most of your initial questions. In information meetings once a semester you will have the opportunity to ask any other questions you may have, and in the office hours of your student advisor you can discuss special questions pertaining to your particular case. Don't hesitate to get in touch!
---
---
---
---
---
Erasmus 2023/24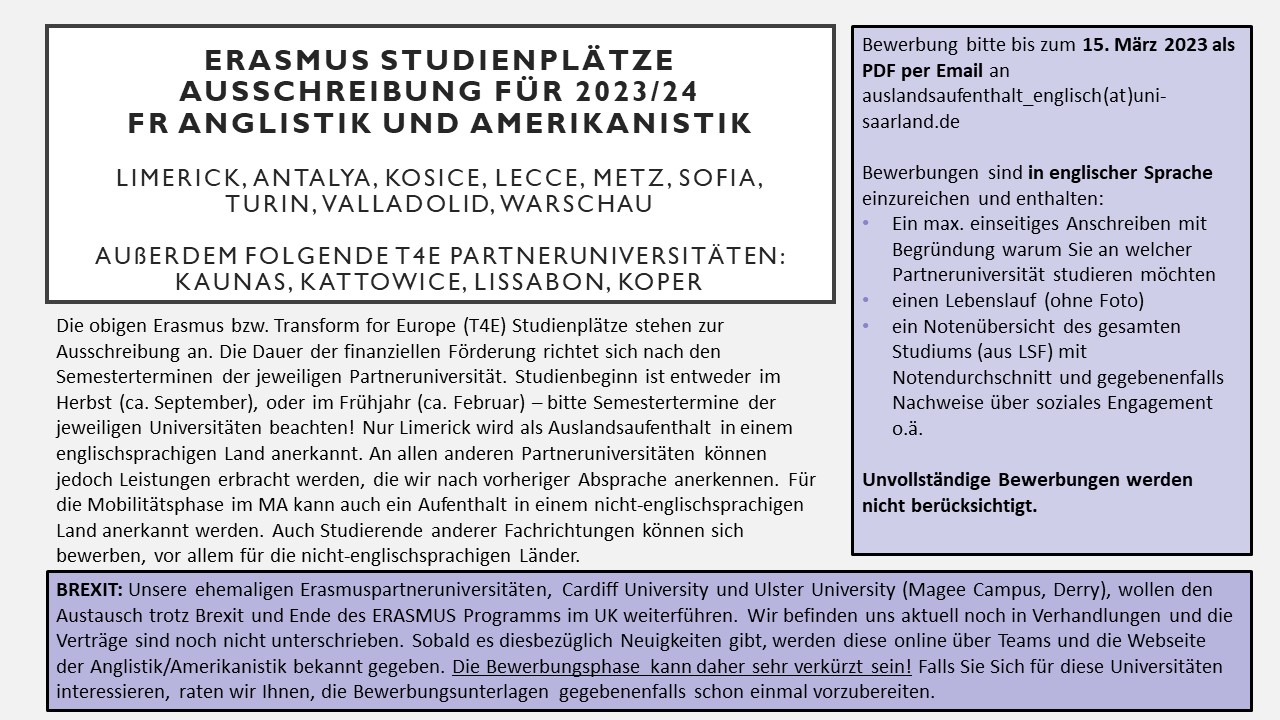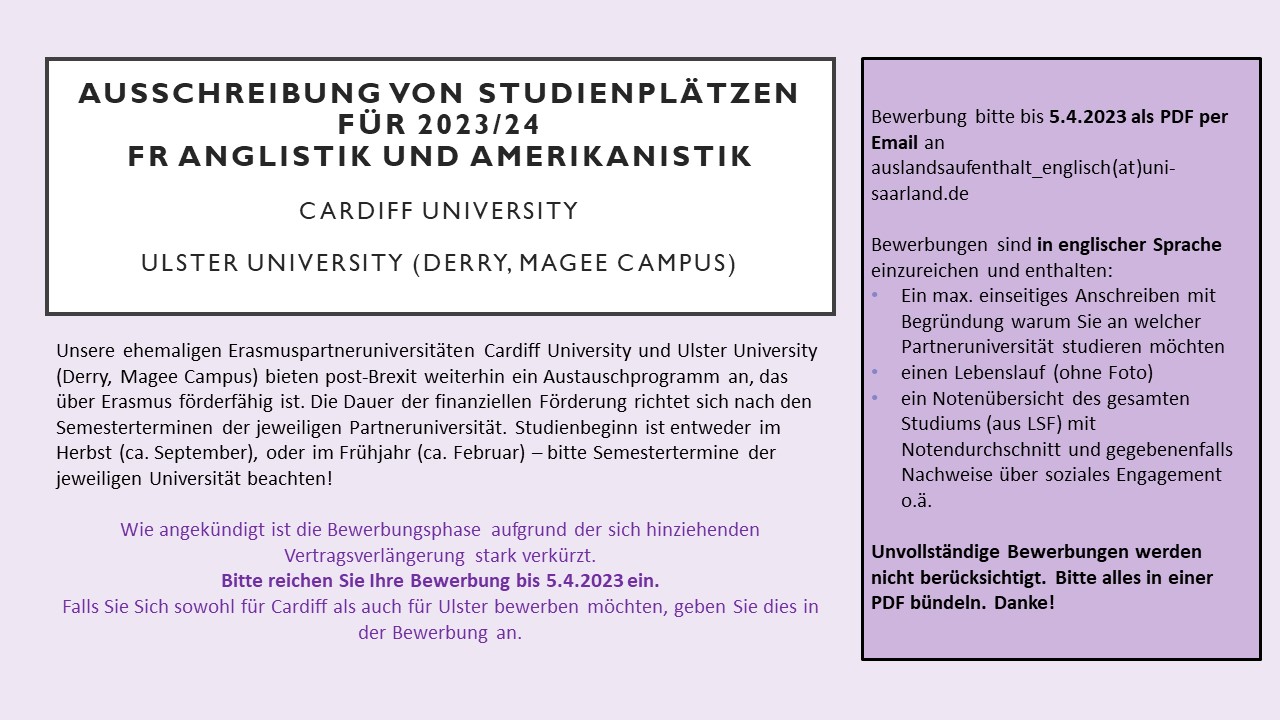 ---
---
Study Abroad Contact Person
Dr. Heike Mißler
auslandsaufenthalt_englisch@uni-saarland.de
Bldg A5 3, room 1.03.2
Phone: +49 681 302 2059
Office hours during the semester:
Mondays, from 11.00 - 12.00 on MS Teams or in person. Please email me to make an appointment.
Office hours during the term break:
Please email me to make an appointment.