European Summer Course 2022
European Summer Course 2022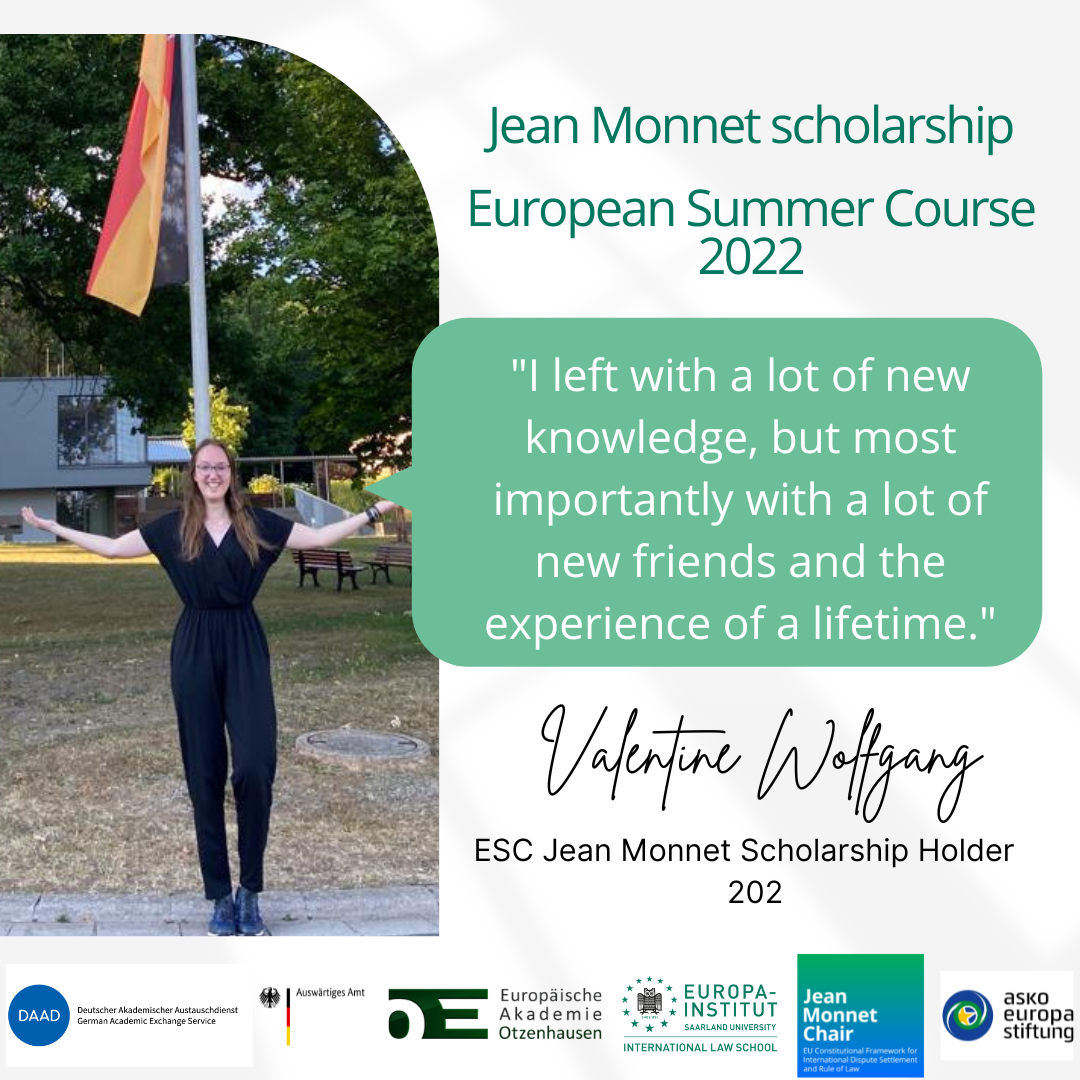 The European Summer Course is an annual international seminar organized by the Europa-Institut of Saarland University together with the European Academy Otzenhausen and the ASKO Europa Foundation.

In August 2022, the seminar, titled #Visions4aNewEurope, focused on a broad range of political, legal, and environmental developments in the European Union.

Every year, selected students have the chance to participate in the European Summer Course free of charge by receiving the Jean Monnet Scholarship from one of the Jean Monnet Chairs at Saarland University.

Here are some impressions of this year's scholarship holder Valentine Wolfgang:

"Each year, a few students and young professionals from all over the world come together for the European Summer Course to discuss the challenges and visions for the future of the European Union.
This year, thanks to a scholarship, I was amongst the 39 young people who got the opportunity to spend ten days together in the small town of Otzenhausen at the Europäische Akademie to meet and exchange.
We had guest lecturers coming in from different universities like Trier or Kyiv to present the difficulties and possible solutions. We made simulations to understand the decision-making process in the EU, by discussing new tobacco publicity guidelines or by handling the outbreak of an unknown disease. We did excursions to Strasbourg and Luxembourg to see the Union work in real life. And most of the time, we discussed current topics such as Brexit, climate change or the Russian war against the Ukraine but also long-term topics as Human Rights Protection and Data Protection. Due to the international group with people not only from all over Europe, but also from Saudi-Arabia, Australia or Nigeria, we had inside and outside perspectives that significantly enriched the discussions. As a student with a non-law background, I enjoyed getting an insight into the law-world, for example by doing a case study in human rights at the Europa-Institut.
Altogether, I came to Otzenhausen with low expectations and the openness to learn, and left with a lot of new knowledge, but most importantly with a lot of new friends and the experience of a lifetime.
I can wholeheartedly recommend the participation to everyone who is interested in the functioning and the challenges of the European Union and ready to gain new perspectives.
I would like to thank the Europa-Institut, Ms Fröhlich and especially the Jean-Monnet Chair for providing me with a scholarship and the opportunity to participate."
More information about the activities of the Jean-Monnet-Chair can be found here.