Diversity@UdS
It is our goal to contribute to a university environment where according to the UdS Diversity Policy all the students and employees feel welcome to study, research and work without experiencing any form of discrimination due to behavior or policies. The Diversity @ UdS project will expand the work through the lens of 'Intersectionality' as defined by Prof. Kimberlé Crenshaw. This project takes further steps to incorporate equal opportunities for minority groups at Saarland University and provides a platform to address their concerns or experiences.
Diversity @ UdS is a project of the Equal Opportunities and Diversity Management Unit at Saarland University since August 2019. It aims to support and celebrate campus diversity due to race, ethnicity, gender, sexual orientation, disability and chronic illness, national origin, religion, language, age, family status and other different backgrounds.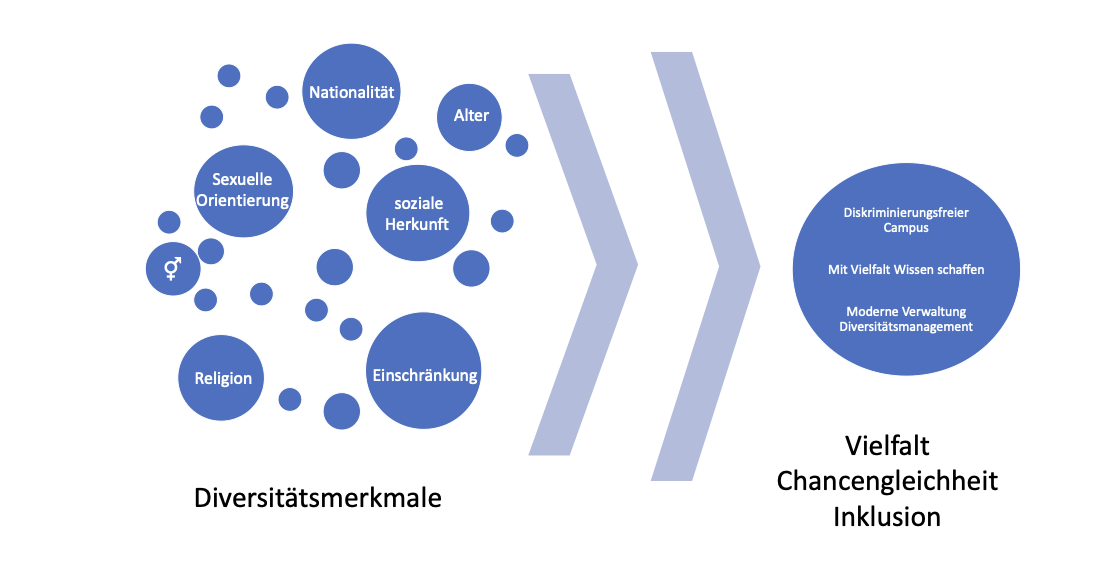 Please note: Following projects are paused/postponed
Diversity Night: We recognize the need for highlighting the diverse characteristics of the students and staff and for them to feel welcome and accepted here at Saarland University. As a result, we plan to organize our first 'Diversity Night' on campus. The Diversity Night was originally going to take place in the 2021 summer semester. Due to the current situation, we have however decided to postpone the event until further notice.
The project F.R.A.U. (Female Refugees at Saarland University) would like to offer women who are refugees and women with a migration background a platform for communication, networking and provide information on a variety of services offered at Saarland University. The online offers have been paused until we can offer meetings on the campus.
We welcome opportunities to collaborate and share with other offices of the university that would like to participate in strengthening the sense of community at our university. If you are interested in collaborating, we can be reached via the contact information below.
Students and employees with experiences of discrimination of any kind are also explicitly encouraged to contact us with their needs, problems, and experiences. If necessary, we are also happy to confidentially assist in contacting appropriate individuals or organizations.
Faculties and chairs interested in organizing information events and workshops around the topic of diversity and inclusion are also welcome to contact us: diversity@uni-saarland.de