Study

/

Materials Science and Engineering
Materials Science and Engineering (M.Sc.)
Materials science is one of the key technological fields of the 21st century. Together with three research institutions located on campus, Saarland University is one of the leading centres for materials science and engineering in Germany. Around 250 scientists and engineers are currently working at the Leibniz Institute for New Materials (INM), the Fraunhofer Institute for Non-Destructive Testing (IZFP), the Material Engineering Center Saarland (MECS) and the University's Department of Materials Science.
Description
The Department of Materials Science at Saarland University is particularly well equipped. The university has a focused ion beam apparatus and a transmission electron microscope and is the only university in Germany equipped with a commercial instrument for atom probe tomography.
The Master's programme boasts an excellent student-staff ratio and offers considerable scope for students to tailor course content to suit their personal interests. Students on the programme have the opportunity to select courses and modules that best reflect their personal academic interests in the field. Thanks to the combination of excellent facilities and the close cooperative ties that exist between Saarland University and other research institutes, Master's students also have the opportunity to participate in and contribute to research projects during their studies.
Graduates from the programme have a wide range of possible career paths. In the materials fabrication and materials processing industries, graduates can find interesting positions in production, development, quality management, occupational safety, technical consulting and key account management. Graduates from the M.Sc. programme are also qualified to join the Ph.D. programme, which is a key stage for anyone looking to pursue a research-based career in academia or elsewhere.
Structure
Module
Der Studiengang umfasst 120 Credit Points (CP) und gliedert sich in folgende Modulkategorien:
Allgemeine Pflichtmodule (18 CP)
Vertiefungspflichtmodule Materialwissenschaft (36 CP) bzw. Werkstofftechnik (36 CP)
Wahlpflichtmodule (mind. 15 CP)
Wahlbereich
Masterarbeit (30 CP)
Vertiefungen
Die Auswahl der Vertiefungsrichtung erfolgt in der Regel durch die erste Anmeldung zu einem der enthaltenen Module. Danach stehen die Module der nicht gewählten Vertiefung im Wahlbereich zur Verfügung.
Zu den Modulen des Wahlbereichs gehören auch Schlüsselkompetenzen, wie z.B. ehrenamtliches Engagement, Gremien-, Mentoren- oder Tutortätigkeit. Diese werden mit 2 CP pro Semesterwochenstunde veranschlagt und können im Gesamtumfang von höchstens 4 CP eingebracht werden.
Detaillierte Informationen zu Modulen und Modulelementen, zu Lehrveranstaltungen sowie zu Prüfungen und Benotung entnehmen Sie bitte den Dokumenten unter Downloads.
Die Vertiefung "Materialwissenschaft" liefert den Einstieg in methodische Techniken der Werkstoffcharakterisierung, der Modellierung und der Simulation, die durch eine erweiterte Betrachtung der materialspezifischen Eigenschaften und Verarbeitungstechnologien ergänzt werden.
Die Vertiefung "Werkstofftechnik" betrachtet insbesondere technologische Aspekte der Werkstoffentwicklung, der Fertigungstechnik mit neuen Herstellungs- und Bearbeitungsverfahren und die Erschließung neuer Anwendungsgebiete, die durch eine erweiterte Betrachtung der methodischen und theoretischen Fachgebiete ergänzt werden.
Requirements & application
Admission requirements
Der Zugang zum Masterstudiengang setzt einen Bachelorabschluss (B.Sc.) oder äquivalenten Hochschulabschluss in Materialwissenschaft und/oder Werkstofftechnik mit einer Gesamtnote von 2,5 oder besser voraus. Bachelorabsolventen, deren Abschlussnote schlechter als 2,5 ist, können auf Antrag an einem Eignungstest teilnehmen.
Bachelorabschlüsse deutscher Universitäten oder gleichgestellter Hochschulen in Materialwissenschaft und/oder Werkstofftechnik werden ohne Prüfung anerkannt. Andere Abschlüsse werden auf Antrag anerkannt, soweit kein wesentlicher Unterschied zu einem Bachelor in Materialwissenschaft und Werkstofftechnik besteht.
Einzelheiten entnehmen Sie bitte der Prüfungsordnung.
How to apply
Das Studium kann in der Regel zum Wintersemester und zum Sommersemester aufgenommen werden. Eine Bewerbung ist jederzeit möglich. Die Bewerbung erfolgt über das Online-Bewerbungsportal der Saarbrücker Informatik.
Regulations
(Regulations available in German only.)
| | |
| --- | --- |
| Standard period of study | 4 semesters |
| Language of instruction | German |
| German language requirements | GER: B2, DSH: 2, Goethe: B2, TestDaF: 4 (in allen Prüfungsteilen) |
| Restricted entry | No |
| Application deadline | Applications for winter and summer semester are accepted at any time |
| Tuition fees | Not applicable |
| Semester fee | See current fee structure |
| Web page | www.uni-saarland.de/fachrichtung/mwwt |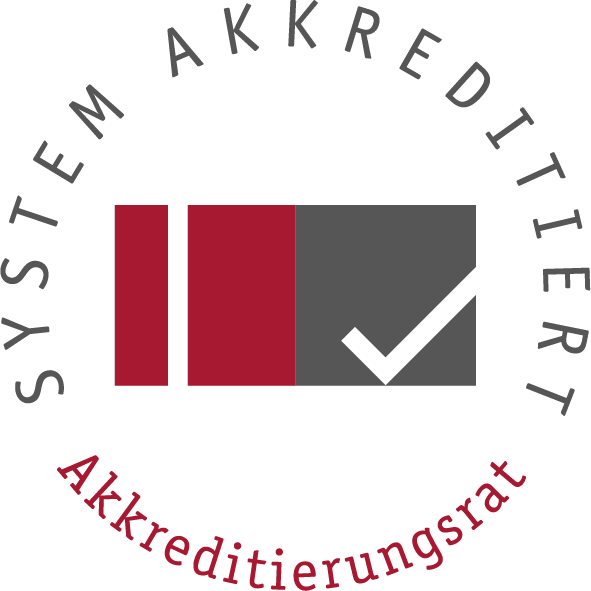 Accredited study programmes
Saarland University was one of the first universities in Germany to achieve Quality Assurance Accreditation and has held the Accreditation Council's official quality mark continuously since 2012.

Quality management